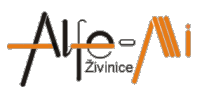 DD - METALOPRERAĐIVAČKA INDUSTRIJA - ŽIVINICE
alfe-mi@bih.net.ba
++387 35 77 25 11
AlFe-Mi Roller Shutter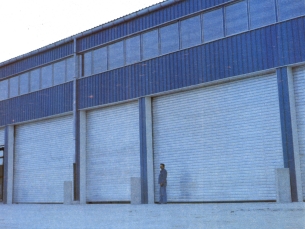 Roller Shutter type AlFe-Mi is a product of the own Research and Development Department and meets all ISO and other standards and requirements.
The System Roller Shutter comprises the shutter and the drive unit..
The sshutter is made of extruded aluminium plates of great stability which slides along the vertically erected guides..
The surface protection of aluminium elements is achieved by anodic oxidation according to DIN 17 611.
The opening/closing of the shutter is via a special auger driven by self-stopping gear with built in an elektromagnetic break.
The gears are adjusted to the standard IEC electric motors.
The gear is made after the safety atandard IP54, lifelong lubricated and no maintenance is required.
The control is with buttons "UP", "DOWN" and "STOP" placed on the control box..
In the case of electric supply shortage the Roller Shutter is possible to manually operate.
| | | | | | |
| --- | --- | --- | --- | --- | --- |
| H (mm) | H1 (mm) | H (mm) | H1 (mm) | H (mm) | H1 (mm) |
| 2 000 | 400 | 6 000 | 530 | 10 000 | 630 |
| 3 000 | 450 | 7 000 | 550 | 12 000 | 670 |
| 4 000 | 480 | 8 000 | 580 | 15 000 | 950 |
| 5 000 | 500 | 9 000 | 610 | 16 000 | 1000 |
The great stability garanted for width up to 16m'